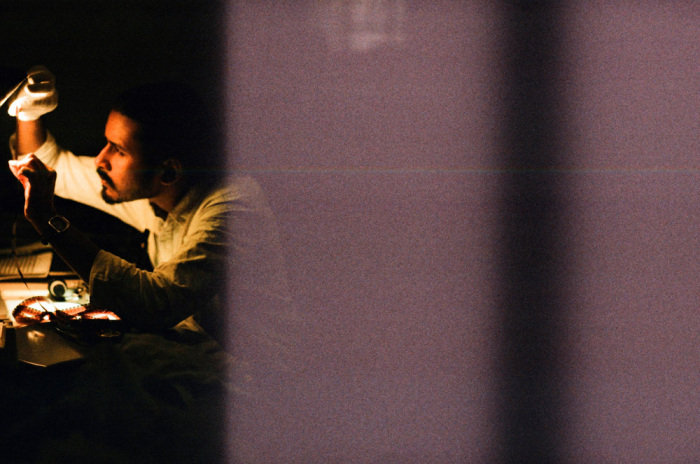 Gautam Valluri is an artist working with film. His work explores the relationship between architectural spaces and personal histories through the materiality of celluloid. He is the recipient of Masters Degrees in Experimental Film from Kingston University London and Université Paris VIII.
His work has been exhibited at Institute of Contemporary Art (ICA) in London, Cinematek in Brussels, CCCB in Barcelona, The Chicago Cultural Center, The Korean Film Archive in Seoul and at various film festivals including International Film Festival Rotterdam, BFI London Film Festival, Edinburgh International Film Festival, European Media Art Festival (Osnabrück) and Images Festival (Toronto).
He currently lives and works in Paris where he is a member of the artist-run film lab L'Abominable.
Contact
gautamvalluri[at]gmail[dot]com
Filmography
The Noble Mansion, 7', 2023, France/ India
ul-Umra, 8', 2022, France/ India
Night Scene Charminar, 3', 2022, France/ India
Durbaar, 9', 2019, France/ India
Midnight Orange, 11', 2018, France/ India
Buried in Light, 8', 2016, India/ France
The Museum of Departures, 6', 2015, United Kingdom
Circles, 3', 2015, United Kingdom
Installations
Ethel Stein, infinite loop, 2019, France
Awards, Residencies & Grants
Special Jury Prize, European Media Arts Festival, April 2023
Le Dôme Residency, Montbazon, France, July 2019
Atelier 105, Light Cone Paris – February 2019
GREAT Scholarship, British Council India, 2014
Solo shows
Three Films by Gautam Valluri, Chicago Cultural Center, Chicago, IL, USA, 2023
3 Films by Gautam Valluri, Ultra Dogme (online), Berlin Germany, 2023
(with Larry Gottheim) Screening Salon n°4, Berlin, Germany, 2023
(with Anuradha Chandra) Perceptual Poetics, Sinema Transtopia, Berlin, Germany, 2023
Screenings & Exhibitions archive
2023
FICUNAM – Festival Internacional de Cine UNAM, Mexico City, Mexico
Braquage @ La Lumière Collective, Montréal, Canada
36th European Media Art Festival, Germany
Images Festival, Toronto, Canada
Artifact Small Format Film Festival, Calgary, Canada
L'Abo et L'Éclair, Navire Argo x Cahiers du Cinéma at Reflet Médicis, Paris, France
2022
Houston Cinema Arts Festival, Houston TX, USA
Gautam Valluri/ Hayoun Kwon, Les Instants Chavirés, Montreuil, France
Festival des cinémas différents et expérimentaux de Paris, Paris, France
Exis Festival, Seoul, South Korea
Cinemateca de Curitiba, Curitiba, Brazil
Cineteca Nacional, Mexico City, Mexico
2021
Cinémathèque Temporaire du CJC, Main d'Œuvres, St.Ouen, France
Xcèntric, CCCB, Barcelona, Spain
2020
Festival des cinémas différents et expérimentaux de Paris, France
Fracto Experimental Film Encounter, Berlin, Germany
Glasgow Short Film Festival, Glasgow, Scotland
Istanbul Experimental, Istanbul, Turkey
Scarborough Museums Trust, Scarborough, UK
Alchemy Film and Moving Image Festival, Hawick, Scotland
Lightfield Film Festival, San Francisco, USA
Plymouth Arts Cinema, Plymouth, UK
2019
International Film Festival of Kerala, Trivandrum, India
1666 Festival, Sao Paulo & Rio de Janeiro, Brazil
Metropolis Kino, Hamburg, Germany
Echo Park Film Center, Los Angeles, USA
Micolights cinema, Milwaukee, USA
Le Dôme Festival, Montbazon, France
Exis Festival, Seoul, South Korea
S8 Mostra de Cinema Periférico, A Coruña, Spain
Cineclube de Compostela, Santiago de Compostela, Spain
32nd European Media Art Festival, Osnabrück, Germany
International Film Festival Rotterdam, The Netherlands
2018
Festival DOBRA, Brazil
Fracto Experimental Film Encounter, Berlin, Germany
2017
Experimenta India, Bangalore, India
L'Alternativa, Barcelona, Spain
L'Âge d'Or Film Festival, Brussels, Belgium
BFI London Film Festival, London, UK
Edinburgh International Film Festival, Edinburgh, Scotland
Hamburg International Short Film Festival, Hamburg, Germany
30th European Media Art Festival, Osnabrück, Germany
Images Festival, Toronto, Canada
Dresdner Schmalfilmtage, Dresden, Germany
2016
Berlin Experimental Film Festival, Berlin, Germany
Alternative Film/ Video Festival, Belgrade, Serbia
CÓDEC/Festival de Vídeo y Creaciones Sonoras, Mexico City, Mexico
Aesthetica Short Film Festival, York, UK
Alchemy Film and Moving Image Festival, Hawick, Scotland
2015
New World Gazelle, The Horse Hospital, London, UK
Studio Session, ICA, London, UK
Lectures and Workshops
Film vs Digital Paradigm, Transmissions Film Festival, New Delhi, India, 2012
Publications
"The Wanderer's Home Movies: An Interview with Basma Alsharif", Projectorhead Eleven (India), June 2016
"The Eye Hears, The Ear Sees: An investigation into the visual influences of sound in film", La Furia Umana -issue 27, (Italy), April 2016
"An Era of Soft Economics", Projectorhead Eight (India), January 2013
"Searching for Metaphors in The Tree of Life", Projectorhead Four (India), September 2011
"The Steadiest Shoulder in Filmmaking: An Interview with Matthias Grunsky", Projectorhead One (India), April 2011
"The Architecture of Mamoru Oshii Films", Indian Auteur #12 (India), September 2010
"The Space Race: Solyaris and 2001", Indian Auteur #7 (India), November 2009
"The Rise of a New German Cinema", Indian Auteur #6 (India), October 2009
"Cine épico hollywoodense y formatos inusuales de pantalla", Televicio Webzine (Spain), October 2008 (translated to Spanish by Darío Lavia)